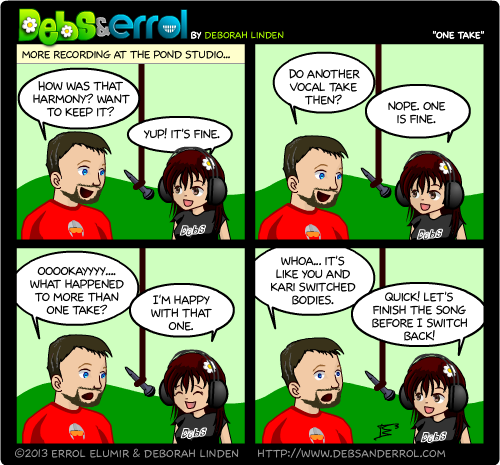 Debs: I invoked the power of Kari to record ALL THE THINGS WITHOUT BEING CRAZY NITPICKY! By all the things, I mean 5 tracks of "Commodore 64" harmonies and retakes on "TIE After TIE" and "Undead Crawler".  Though I guess the fact that I wanted to do retakes at all was kind of nitpicky. Anyway, happy times and hooray – I'll be done recording at some point today.
Devin: The honest truth is, I'm in my third hour of trying to nail a guitar part…
Debs: That's totally my fault. I keep trying the stupid "Falling Quickly" guitar part but I keep failing horribly when it comes to recording it. Lucky for me, you are highly, highly skilled and RAWK.