Comic 755 – "Where's Errol?"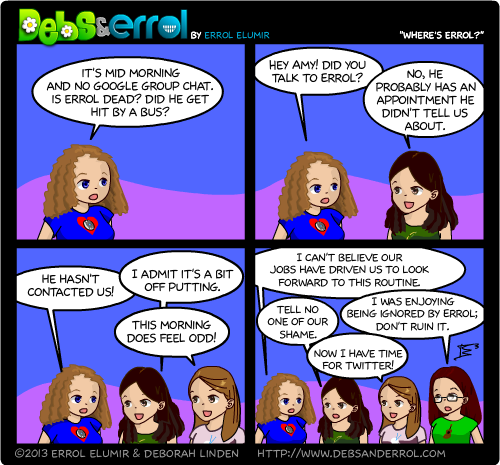 Errol: I did have an appointment at the fracture clinic. Fortunately, I went early and it didn't take crazy long! Huzzah! I just have to be in my crutches for a couple of weeks, and then I'll see if I can stand on it without crutches…
Whitless: It's true…I worried…I am terrible about worrying about friends. I will either be the best or worst mom in the world. And Errol is such a creature of habit. The no phone call didn't bother me. Big deal, he probably ran into a friend on the streetcar. But then the no chat. Or tweets. Or any online status. So I got concerned :D. This MIGHT be Stockholme Syndrome.
Amy: A morning without all caps screaming Errol just isn't right. Without the "ALLLLLOOOOO!!! GOOD MORNING AMEPAMES!," my day can't get rolling. However I did get to have lunch with Errol yesterday which was a nice break from my otherwise meh day at the office. Thanks Errol!
Jeanette: Every morning, I have a 'huddle' that starts exactly at 9 and lasts for about 10 minutes. I was totally confused and kind of sad when I got back to my desk and there was no chat window open with Errol screaming his happiness at us. It was a far more productive morning that usual though.