Comic 809 – "Tribbles for FuMP!"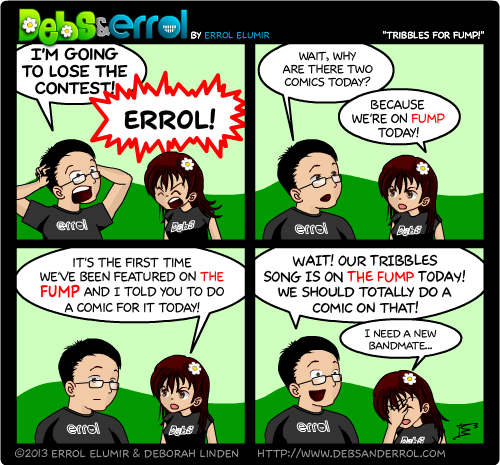 Errol: Poor Debs. Actually, I don't remember her telling me to do this comic! Woops!
Debs:
Poor Errol. I told him to make this comic. Okay! Two announcements:
1) "Tribbles" is the featured song on The FuMP (The Funny Music Project) this week! It's the first time we've been featured and we're really excited! What does this mean for you? It means that you can download the song for free. Check it out and tell your friends!
1) Reader comic submissions for comic #818 are due before December 20th! Usually we do these every 100 comics, but because the end of November was a busy time for many, we opted to push it back. 8/18 is my birthday, hence the apparent randomness. For comic #700, we posted one guest comic a day which was really nice, so we'll be doing that again! Feel free to make them Debs themed, holiday themed, or really anything you want.
Errol: What? They can be Debs & Errol themed too!