Comic 823 – Quick Questions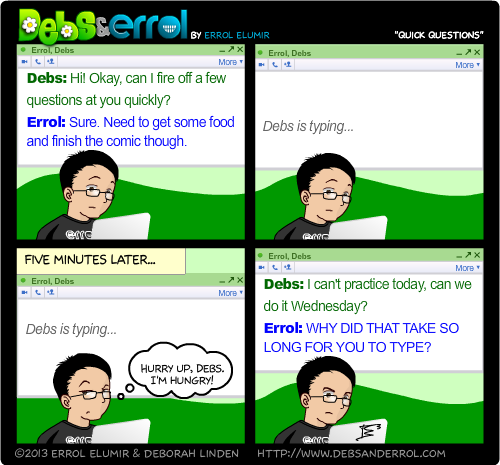 Errol:
Happy New Year's Eve! Debs and I are both so busy that we won't have time to practice until Wednesday evening, hopefully. My brother-in-law is down, and this is when we see a lot of movies. Last night we saw the "Hobbit", tonight we're seeing "Hunger Games". Not only that, I'm seeing the TIFF movies as well! So yesterday I saw "Spirited Away" and today I'm seeing "My Neighbours the Yamadas".
And I bought for my daughter the 6th season of Doctor Who, so we still need to work through that. In other words, my vacation has been awesome.
Anyway, I've seen Debs type, and she can spit out sentences in split seconds… and yet, sometimes, it seems to take ages before her response. How impatient have I become that I can't wait 5 minutes? Anyway, I multitask when I chat with her. I have no idea what she's multi-tasking when she chats with me. Probably boys.