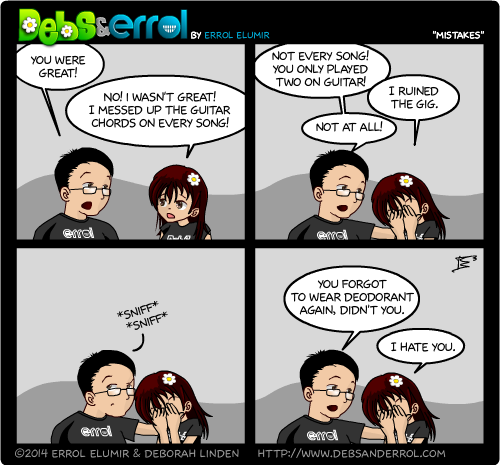 Errol:
For the record, I did not say this.
I just thought it.
And then put it in a comic.
I am sure that is much better than me just saying it.
Debs:
My first reaction to this comic was "jerk!" This was almost immediately replaced by "Errol has a filter? Huh." This comic exaggerates but it is true that I was "blargh" over getting that silly C#5 whatever the heck wrong on the Kiki song because I'd practiced it more times than I can count. I hate you, C#5!
But yes. In seriousness, the gig went really well and I stayed for Totoro afterwards, especially fun since I was surrounded by giggling kids 🙂 And then last night there was Benedict Cumbersmaug. Seeing two movies in one day is weird. Kili is yummy.