Comic 842 – "Google+ Debacle"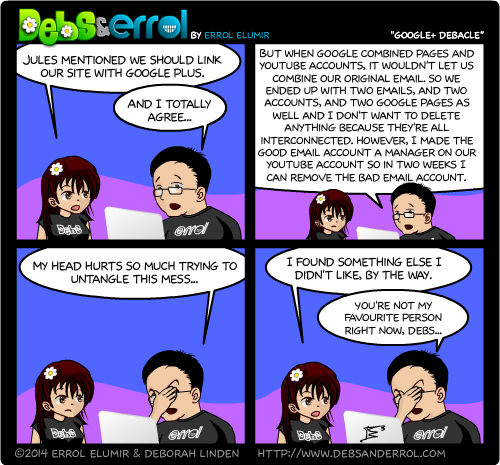 Errol:
We do have a
Google+ page
. We are abandoning the old one. I don't know if you guys knew we had an old one, but we do have an old one. The new one was created for us when we didn't want it created for us.
And funny thing, we can't get a custom url. They always want to add an extra character to the end of the custom url. I'm hoping when our email becomes associated as the official owner of that page, then we can get a proper url.
At least we don't have to log into our youtube account with a different address.
And hopefully, this post, if all goes well, will be farmed out to all the Social Media sites! It should go to Twitter, Tumblr, G+ and LinkedIn! Of course, it won't go to Facebook because that's broken for some reason. *sigh*