Comic 847 – Three Columns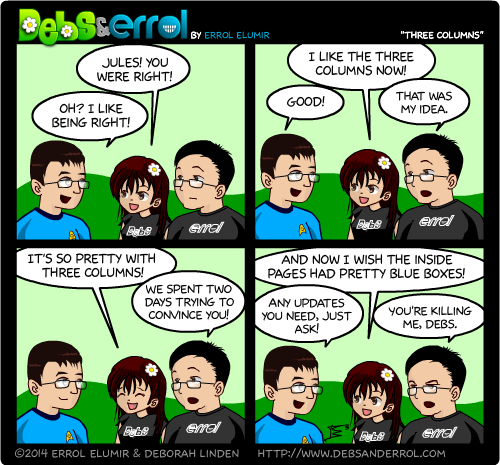 Errol: You know what else Jules did? They went through all the comics and made them feature images in every post so that it will display properly when you select ALL Comics in the menu. Good grief. That's a lot of work.
Reminds me when Brian went and tagged all the comic characters in all the comics. Heck, Debs went and fixed all the categories.
You guys are troopers!
Did anyone notice I changed the footer so that they have soot sprites now? Hah!
Debs: Oh my gosh…Jules, that's crazy! I had no idea you did that. I think my head would seriously explode. Fixing the categories wasn't nearly that much work. I did have to go into a lot of posts to see what they were, but I could mostly do batch edits.