Comic 866 – "Weeping Angel Game"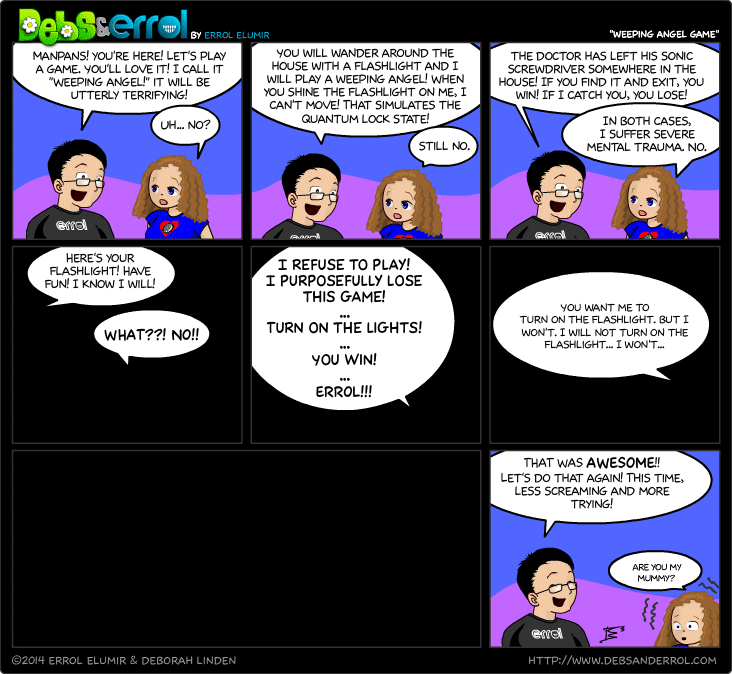 Errol: Last night, I played a game with my girls. There were three Weeping Angels, and we would hide while Manda would try and find the Sonic Screwdriver. It was awesome. To be fair, Manda really only played the victim two or three times.
We want to play the game for our knitting club. Imagine doing this in a spooky church! Hah!
Manpans: OH MY GOSH I LOVE THIS COMIC! (note to people reading the comic, the flash thing was a bit slow for me, so just wait a moment). Yeah, this is about how it went. But it was tons of fun! I actually genuinely scared Errol a couple of times. Of course it didn't stop my own heart from stopping. Imagine turning on a flashlight and seeing crazy angry Weeping Errol face.
Errol: Rules for the game!
Choose who will be victims and who will be angels. Try to have a 1/3 ratio. More angels than victims.
Victims get a flashlight each.
Place an object (like Sonic Screwdriver) somewhere in the building.
Turn off all the lights.
Weeping Angels all go hide.
Victims start at exit of building and have to find the Sonic Screwdriver
If a Weeping Angel has light shone on them, they freeze (simulates Quantum-Lock)
If Victims are touched. They are out. Other victims may grab flashlight.
If Victim gets Sonic Screwdriver, they can turn on lights with Sonic Screwdriver. This gives them a 2 second reprieve for every angel that is in the room hit by the light. (After 2 seconds – Angels can turn light off if flashlight not on them)
If Victim gets to exit of building, they win.
Hint to Angels: Don't say a word. Prolong the terror. Don't catch them right away. ^_^