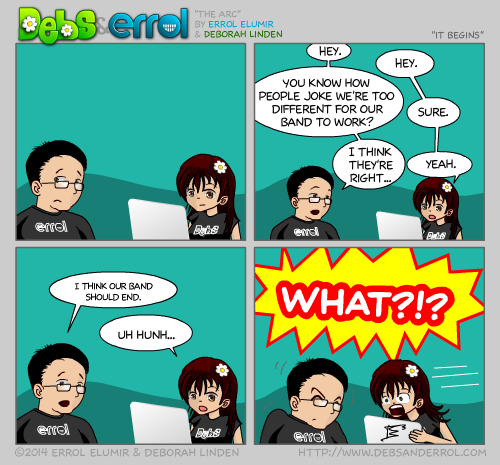 Errol: Hey folks, first off: THE BAND IS NOT ENDING! We don't want you guys thinking we're quitting. We're not quitting. However, this comic is about the band. And although it's an altered reality, we do try and put real things in this comic.
And this conversation is one of them.
This is a risky move. Very risky for both of us. We talked about whether or not we should include this in the comic arc. However, it was a huge event in our band lives. So… we figured we'd give you a small glimpse into our lives.
Debs: A more serious glimpse anyway. This is a conversation that we had near the end of February. Deciding to put this into the comic was a heavy, heavy thing, but it can't be all fun and roses all the time, right? Don't be scared though, guys. We're expecting that comments and questions will happen throughout this arc and we'll respond as openly as we can.