Comic 248 – "Whitless Songs"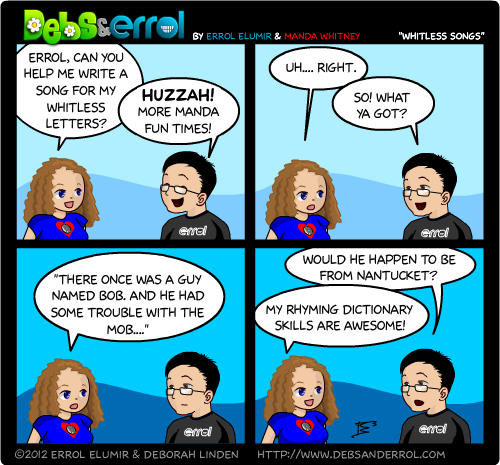 Errol: Ok, I'm getting behind on things. I asked Manda to send me script ideas. She sent me one, and then… I changed it.
Whitless: At 1am this morning Errol asked if I would script the comic.  Being awake at 1am is not a common occurrence with me, but see I've been trying to write a song for the first time in my life and well, rhyming schemes don't come easily to me.  Actually, song writing in general is pretty alien to me.  I usually leave it to the awesome people like Debs and Errol, but this song has been on my mind for a while so I'm finally venturing out!  I'm sure with practice it'll be a quicker process but right now my neighbours are probably wondering what all of the dancing thumps and repetitive singing is about…
So 1am Manda whacked her keyboard for about 2 minutes and this is essentially what came out.  Errol changed a couple of things so that it didn't look like I wrote it in 2 minutes at 1am and so that maybe people will laugh.