Comic 264 – "Podcast Placement"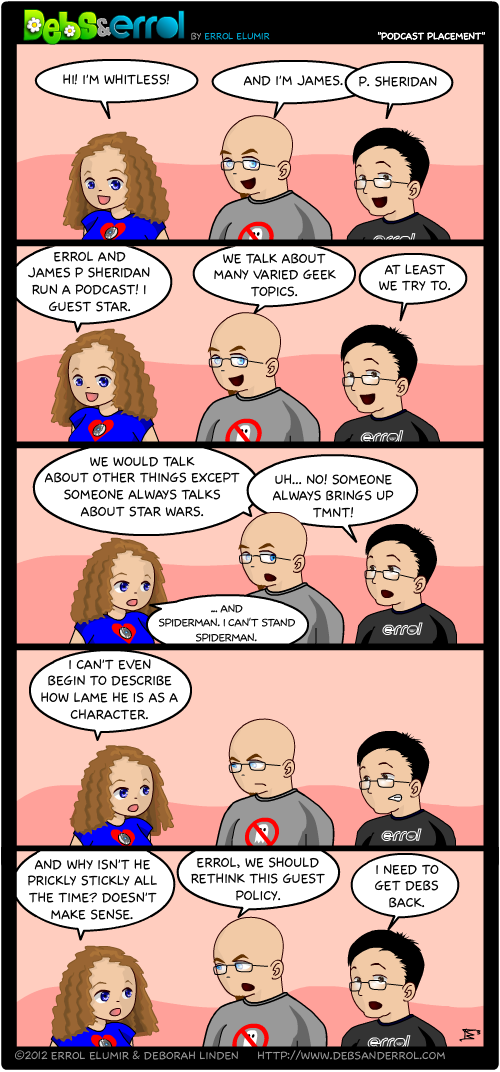 Errol: James P Sheridan and I have a podcast. He loves Spiderman.. and Manda hates spiderman. Getting them together on the podcast is gold. I love how… it's someone ELSE arguing and not me this time. 😀 (Sorry this is so late, took my daughter to the hospital… just a nasty virus. Things are fine though. :D)
James P Sheridan: SPIDER-MAN HAS A HYPHEN!!! YOU ARE SPELLING IT WRONG!!!! STAN LEE IS ROLLING IN HIS GRAAAAVVVEEE!!!!
Whitless: Really? spiderman has a hyphen? spider-man? I never knew that!
Errol: Hunh… neither did I.
James P Sheridan: And the S and M are capitalized!
Errol: You know how I wanted you guys to do a blurb for this comic? Forget it. What you have now is gold. Thanks guys!
Whitless: LOL
James P Sheridan: …
Whitless:  I feel very used.  Errol stuck James and I in a gmail chat together like a ten year old who puts 2 fighting fish in a bowl that also disagree about spiderman.  Sorry.  Spider-Man.  Apparently we've been spelling it wrong the whole time.  Why the hyphen?  It's silly.  Batman doesn't need a hyphen.  Because he's Batman.  I suppose I'm mistaken about Spider-Man , but I just could never get into it and just can't accept that amount of camp in my comics.  Poor James has been trying to convert me.  It's not going so great. I'd rather talk about Myst.
James P Sheridan: The hyphen was used to differentiate the name from Superman since their word-structure appears  to be similar; it breaks up the word and makes it a little more recognizable, at least that was Stan Lee's original idea. And originally Batman's name was divided as The Bat Man so….ARGH! You got me geeking again…