Comic 501 – "Last Minute"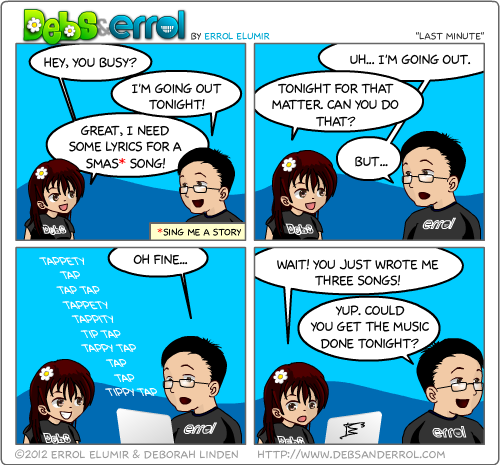 Errol: This is how we write songs.
To be fair to Debs, she did ask if I was busy and I said I would write lyrics.
To be fair to me, she did know that I was going out that night.
To be fair to Debs, I did tell her I would drop anything for the band.
To be fair to me, she always asks me to do things the last minute.
To be fair to Debs, writing lyrics is easy for me to do.
Debs: Hey! I didn't just spring this; I asked for SMAS lyrics a few times before last week…I think! Anyway, he literally sent me lyrics for three songs ten minutes after I asked. I was dubious. Has comic me ever made that face in the third panel before?
Errol: That could be a trivia question, I dunno. You asked this way, "We should write more songs for SMAS!" And I said yes. 😀 And why were you dubious? The songs were already outlined! There are STORIES there to turn into lyrics. 😀 And it didn't take me ten minutes. It took me ten minutes each song!