Comic 507 – "#P4A" (#NaNoWriMo!)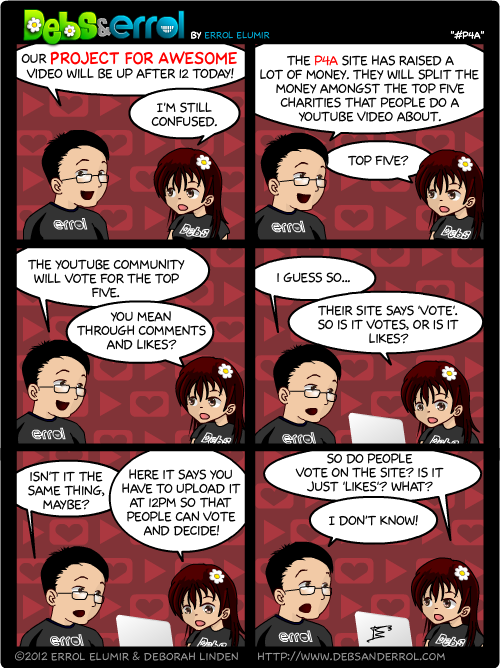 Errol: This should have been easy, the video was the hard part. However, admittedly, I was confused too! This is our first year, and I think everyone already knows what they have to do. But we are noobs, and we're confused. Ah well.
From their site: "The Project for Awesome is an annual event that sprung out of various YouTube communities to support charities and other ways of decreasing the overall worldwide level of suck. Ever year since 2007, thousands of people post videos to YouTube promoting charities on December 17th. We then come together as a community to promote those videos and raise money."
If you have ever wanted to see what Debs and I are like on stage, it's pretty much the video you will see after 12pm today (depending on how long it takes to upload).  Please watch, like and comment! That's all I ask. Just watch it, like it and comment. 😀 Nanowrimo will love you! (Yes, the charity is for the Office of Letters and Light). Her

I mean, Like it if you DO like it. If you don't like it, then, uh, vote like for someone out there who does like it!
Debs: HERE'S THE VID! Huzzah!