Comic 508 – "#P4A Addiction"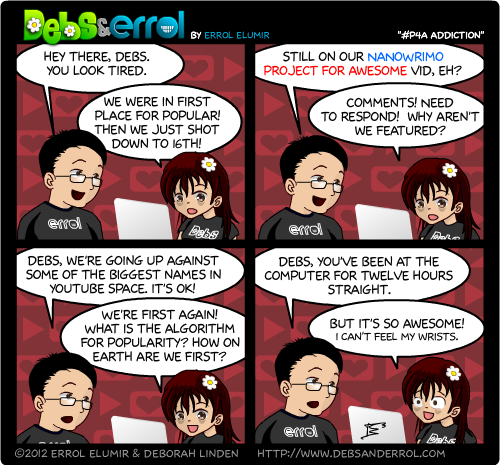 Errol: Yes, we are still doing our Project For Awesome Video so that NaNoWriMo gets the monies! Please, comment. Please like it! Please vote! Heck, comment more just for fun. Pick out all the geek references! Laugh at the asian. Do whatever it takes!
And it's been a whirlwind of crazy for Debs and I. We are really bit players in this, going up against people who have hundreds of thousands of subscribers. NaNoWriMo didn't get their donation numbers, so we hoped this could help! 😀
You know what else we didn't do? We didn't monetize it so YOU didn't have to sit through 5 seconds of ads. 😀 Nothing wrong with Ads, honestly, youtube people need to make money some how. Oh, and today, there will be more CD give aways draws!
That's right! Nanowrimo likes us! We have given them download cards to give away if you retweet their tweets! Just follow them!
And if that's TL;DR – CHECK OUT OUR VIDEO! IT HAS A TOTORO!