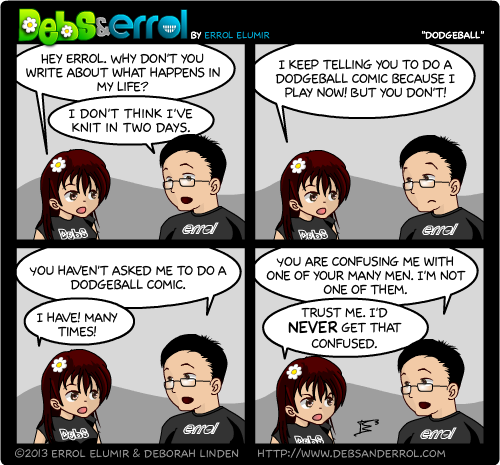 Errol: I wrote Debs FAWM.org Bio. She thought the bio should be made into a comic and then mentioned we should add dodgeball into that. I thought she wanted me to work dodgeball into the bio. That was the only discussion we've had about dodgeball in a comic. 😀
Debs: Well, to be fair, it was 1:30am and we were both tired. And according to Google chat, what I said was " into the mix of things" so I can see how that could have been vague. You could have asked, y'know 🙂
Errol: Seriously though, I think Debs and I have an inability to communicate. Sometimes she will chat to me after we haven't talked for a few days and I seriously am confused at what the context is. I have no idea what she's talking about.
Debs: These days? Often it's Spintunes.
Errol: Other times, it's like the above. Our minds work in ways so completely different from each other that she constantly misunderstands me and I her.
So imagine what it would be like if she tried to tell me about her emotions. Disaster would happen. 😀
Debs: Is that a veiled request that I should never tell you about them 😛 Anyway, you understood me perfectly well regarding the vocals for Ja-Mez's Sarah song so all is good!