Comic 564 – "Con-G Panels"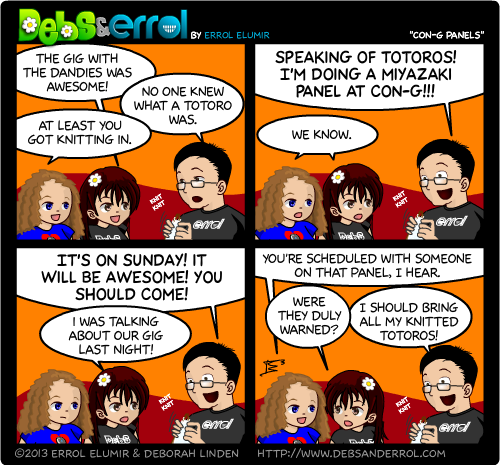 Errol: Last night was a load of fun with all sorts of people! The night was hosted by The Dandies and we got to hang out with The Sufferettes, Devon Hyland, Jeff Clark and Kerl! I don't know if the others had webpages, I looked and couldn't find them. 🙁
Debs: And there was beer and open mic afterwards!
Errol: And this weekend… Con-G! HUZZAH! I'm so excited! I HAVE  A MIYAZAKI PANEL!
Debs: We are also performing! And don't we have a panel too?
Errol: Right! Ya! That too!
Manpans: And we are doing a panel as well, and we are performing a skit!
Errol: AND THEN MIYAZAKI PANEL!