Comic 621 – "Last Debs Day"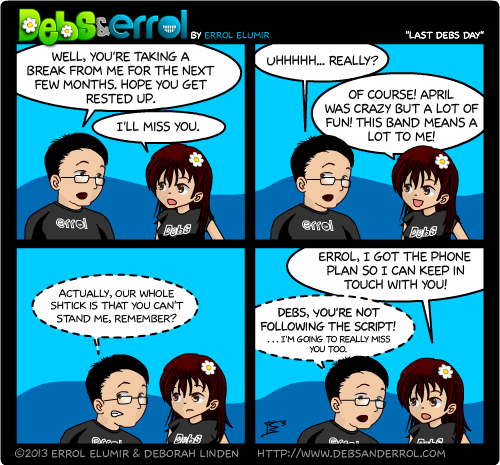 Errol: I will not see Debs for a while again. Now, Debs has been gone for long periods of time before. I missed her then and I will miss her again.
As you know, she is very talented. She writes music effortlessly. She finds harmonies with nary a thought. She has a crazy range of musical abilities and she is great at what she does.

Debs and I argue a lot over music, but we agree more than we disagree. She works hard on her songs and when we write music together, I think it goes rather smoothly. She is a wonderful music partner.

On stage, for some reason, she and I click. Our first performance was completely surprising to both of us, because we fell into our roles naturally. We don't rehearse our banter. I don't even know what I will say when we get on stage. But when the lights come on, it's like I've been performing with Debs for many years.

I know she knows a lot of musicians and I know a lot of her musical friends may be a tad bit jealous that _I_ get her as a band mate. And I am fiercely proud that she is Debs of Debs & Errol.

Debs is my friend. I share many things with her.
Bye, Debs! Have a great time! I will miss you.
Debs: The rumours are true! I'm spending most of the summer away, WWOOFing in Quebec and the Maritimes. Tomorrow, I'm catching a ride with my brother to Montreal and staying with a friend for a few days. Then it's off to a family farm about an hour and a half east of Montreal where I'll be farming/Totoro-Shaker Knitting for two and a half weeks or so before coming back to Toronto for Anime North. 
Playing in the dirt for a summer is going to be really good for me. Being away from all of you here is going to be hard though. I do have data on my phone, so provided it works there I'll still be able to keep in touch that way and really, I'll be in Toronto every few weeks so it won't be so bad. But yes. Contrary to what a lot of the comics say, I feel really lucky to be one half of D&E, and even luckier to have Errol as a bandmate and a friend.  Poor mushy Errol. I should deliberately lose one of your knitting needles; that would sort you right out. I kid!